The Bibliophiles: Contemporary Fiction with a Sprinkling of the Classics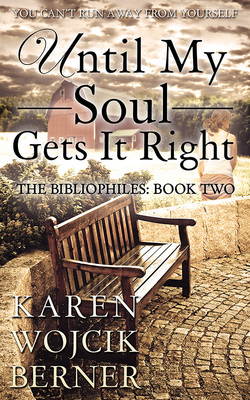 2013 Big Al's Books & Pals Readers' Choice Nominee


"Karen Wojcik Berner's Until My Soul Gets It Right continues her fantastic Bibliophiles series with another enchanting story full of unforgettable characters.
A perfect book for a book club discussion or simply an enjoyable day of reading!"
— Kindle Fire Department

"I read it entirely in one day, I just couldn't put it down! Catherine Elbert inspires you to go out and do the things you want to do."
— Goodreads review

"This excellent addition to the series will endear readers to the Bibliophiles indefinitely!"
— Lovey Dovey Books blog





You can't run away from yourself.

Catherine Elbert has never been good at making decisions, whether it was choosing an ice cream flavor as a small child, or figuring out what she wanted to be when she grew up. The only thing Catherine knew for sure was there had to be more to life than being stuck on her family's farm in Wisconsin.

While watching a PBS travel show, Catherine becomes entranced by Portland, Maine. The ocean. The lobsters. The rugged coast. Nothing could be more different from the flat, nondescript farmlands of Burkesville.

Despite her parents threatening to disown her and her brothers taking bets on how many days until she comes home, Catherine settles on Peaks Island, off the coast of Portland.

She was finally free. Or so she thought.

Called a "wicked fun" novel of "self-discovery, redemption, and forgiveness," the novel follows farm girl Catherine Elbert as she bounces from U.S. coast to coast in search of her true self. A 2013 Readers' Choice Nominee for Contemporary Fiction at the widely popular BigAl's Books & Pals review blog, it is a story about growing up, making peace with one's past, and finding a little love along the way.
---